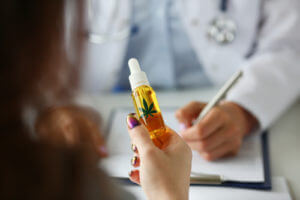 The most significant advocates of cannabidiol include A-list celebrities. Here, some world-renowned fans of cannabidiol explain why they are so interested about it. Keep reading to know some of the CBD uses in the celebs.
Kim Kardashian West
Recently, this reality TV personality threw a baby shower that had a 'CBD theme'. She once took to Instagram to inform her followers of how much she loves cannabidiol. On her Insta account, she wrote, "Anyone that knows me knows I am obsessed with CBD everything!" CBD gummies are her preferred form of cannabidiol, which she uses for better sleep.
Jennifer Aniston
Today, Actress Jennifer Aniston may be more in the news in connection with her former husband Brad Pitt. However, there was a time when her CBD use grabbed all the headlines. "CBD helps with pain, stress, and anxiety," she once told in an interview given to 'US Weekly'. The actor did not specify her preferred way of consuming it, but she is often taking it in the form of topical or tincture.
Mandy Moore
As the lead actor of the 'This Is Us' show, Moore had been to several red carpet events. In a talk to 'The Coveteur', Moore said that she intended to consume cannabidiol before the 2018 edition of the Golden Globe Awards to deal with feet ache. "This year I'm trying some CBD oil on my feet."
Moore was referring to the topical application of cannabidiol. This way of consuming it is thought to bring instant relief from localized pain. The following celebrity also uses it for the same effect.
Olivia Wilde
In 2018, Wilde talked about her admiration for cannabidiol in an NY Times interview. Taking part in a Broadway play that lasted several months took much toll on Wilde's body. Consequently, she started to consume cannabidiol as a way to relieve pain without using an excessive number of painkillers.
Gwyneth Paltrow
The actor of the Marvel Studios Avengers franchise tends to be credited with making CBD consumption in the wellness sector and beauty segment normal and popular. This is mainly because she had the hemp-derived substance featured on the website of 'Goop', which is her lifestyle brand's name.
Besides, her workers have also shared the experience consuming CBD in a cannabidiol boutique from the point of view of a first-time user.