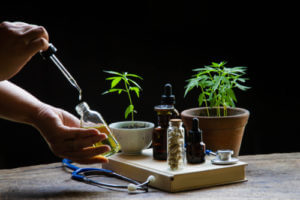 Obesity is a serious problem for millions of people around the world. It is found that the risk of developing heart disease, stroke, diabetes, etc. is high in people with obesity. That is why it is very important to lose excess body weight.
One of the natural ways to reduce body weight is by taking CBD regularly. CBD is a cannabinoid compound that possesses numerous therapeutic properties that can help in alleviating health problems like anxiety, depression, stress, arthritis, seizures, pain, skin problems, etc.
In this article, we will take a look at how CBD will help in promoting weight loss.
CBD For Weight Loss
According to some of the recent studies, the use of CBD can help in promoting weight loss because of its effects on the body and brain. CBD is beneficial for your body mainly because of its interaction with the CB1 and CB2 cannabinoid receptors present in the endocannabinoid system. The CB1 cannabinoid receptors will be widespread in people who are obese or overweight. It was found that the concentration of CB1 receptors is unusually high in the fatty tissues of people with obesity. That is the main reason why many experts believe that there is a connection between obesity and the activation of CB1 cannabinoid receptors.
As per the results of some of the recent studies, CBD may help in reducing your appetite and prevent you from overeating. This is another way to lower your body weight. Since increased appetite is very common in people after consuming cannabis, many people think that CBD will also increase appetite. However, it is THC that causes hunger and there is not enough evidence that shows that CBD can increase your hunger.
Some scientists also claim that CBD can help in converting white fat into brown fat, which helps your body to burn calories. This can also help in promoting weight loss. It is very important to reduce the amount of white fat in your body because it may increase the risk of developing diabetes, heart disease and many other problems.
Final Thoughts
You should note that CBD is a completely safe cannabinoid when taken in normal doses. If you take it in high doses, you may experience dry mouth, drowsiness, fatigue, low blood pressure, etc. Make sure to talk with a doctor before you start using CBD for weight loss.