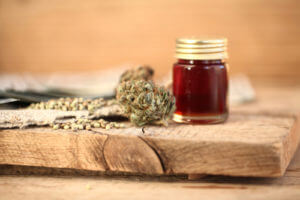 Tea is an aromatic beverage made using the leaves of Camellia sinensis or the tea plant. It is popular among the people in Europe and Asia because it relaxes and refreshes. Apart from this, it is brewed along with other medicinal herbs for making concoctions that are useful for treating the symptoms of common ailments cough, flu, fever, stomach upset, etc. Hemp-derived CBD products like oil can be added to tea for making a refreshing and healthy beverage.
What Is CBD And How Does It Work?
CBD, also known as cannabidiol, is one of more than a hundred cannabinoids naturally found in the plants belonging to the cannabis family. Legally available cannabidiol products like CBD oil are made using the extracts produced with the flowers, buds, and leaves of the hemp plant species that have less than 0.3% THC. This ensures that consuming beverages or edibles made using them will not produce mind-altering effects.
Cannabinoids like cannabidiol (CBD) produce their effect by interacting with the cannabinoid receptors of the endocannabinoid system (ECS). They are found in the cells and tissues of the body and help to regulate homeostasis. Any imbalance in the ECS makes you sick, and the cannabinoids in CBD oil helps to restore this balance.
What Are The Benefits Of CBD Tea?
The major benefits of CBD tea are discussed in detail below; read on to know more about them.
Can Help With Good Night's Sleep
CBD tea can help with a good night's sleep because of cannabidiol's positive effect on the ECS. This is because CBD provides relaxation, and it improves melatonin levels.
Can Help With Upset Stomach
CBD tea can help with an upset stomach due to cannabidiol stimulating the ECS. The ECS plays a key role in the proper function of the gastrointestinal system.
Recipe For Making CBD Tea
Ingredients:
1 CBD tea bag or ground CBD flower mixed with tea
1 cup hot water
1 tablespoon of honey
1 cinnamon stick
1 lemon peel
Cream (optional)
Instructions:
Add the cinnamon stick, lemon peel, and honey into a mug.
Mix ground CBD flower and tea, and then put the mix into a tea infuser. Place this into the mug with the cinnamon stick, lemon peel, and honey.
Fill the mug with hot water and let the ingredients seep into it for 3 to 5 minutes.
Remove the tea infuser and add cream, sugar, or honey, and your CBD tea is ready.
Keep in mind that heat is required to activate the cannabinoids in the ground CBD flower.